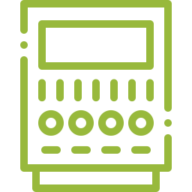 BMS
Battery Management System
BMS Battery guru
Battery Management System
BatteryGuru BMSs thanks to their design have increased resistance to water and moisture. Good heat dissipation from the inside of the system to the housing.
Thanks to the BMS system, the battery is protected against excessive discharging or overcharging. BMS ensures equal operation of all cells, which significantly extends battery life.
BMS are available in the Battery Guru store.
For the customer's needs, it is possible to manufacture a series of BMSs with different parameters.
What is BMS?
It's any electronic system that manages a rechargeable battery (cell or battery pack), such as by protecting the battery from operating outside its safe operating area and monitoring its state.
Warranty
Products are covered by a 24 month warranty.
wide choice
A wide range of BMSs for serial production.
waterproof
Increased resistance to water and moisture