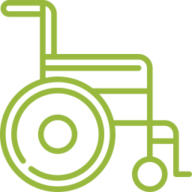 medicine
we make batteries for medicine
medicine
WE MAKE BATTERIES FOR MEDICINE
Lithium-ion batteries can be used in many different industries, including medicine. They are especially useful when powering equipment for people with disabilities. BatteryGuru creates lithium-ion batteries for electric wheelchairs. Such batteries are four times lighter and smaller while maintaining the capacity of an older type of battery. In addition, there is a shorter charging time and longer battery life.
Each battery is equipped with a special battery management system (BMS), which controls the charge level of each cell and protects them against excessive discharging. This system not only ensures extended battery life, but also guarantees the security that is so important in this case.
In addition to wheelchairs, BatteryGuru batteries are also used in devices called stair climbers, which helps people with mobility disabilities.
We also create batteries for electric bikes adapted for people with disabilities and for electric attachments for traditional wheelchairs.
Standard products can be found in our store in a permanent offer. Unusual designs can be also found in the on-line shop. If you need an individual project, order a free estimate – click the button below or contact our sales department.
what is an electric wheelchair?
An electric wheelchair is a vehicle for with movement disabilities, equipped with an electric motor.
The first prototypes of electric wheelchairs were produced in the 1930s in England. The invention of a modern electric wheelchair is attributed to George Klein – they were designed for veterans of World War II.
Wheelchairs are usually driven by brushed DC motors, powered by 12V and 24V gel battery systems, less frequently lithium-ion, with capacities from 20 to 120 Ah. They allow you to cover a distance of 5 to 35 km with a speed of up to 15 km / h. The weight of the wheelchair itself often exceeds 100 kg.
Warranty
Batteries are covered by a 24 month warranty. Warranty and post-warranty service in Europe.
New cells
We make batteries only from new cells selected by our machines.
Insurance
Our batteries are covered by the OC policy. The policy is valid throughout the Europe.