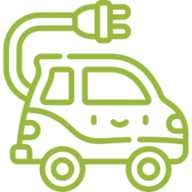 Microcars
we make batteries
for microcars
Microcar
batteries for microcars
Battery Guru specializes in the production of lithium-ion batteries for small electric vehicles. We've already made hundreds of batteries, and dozens of projects that drive electric scooters across Europe. On the basis of batteries for scooters, we have prepared modular batteries for microcars (or minicars).
Our flagship product in this industry is a modular battery with a capacity of 34.8 Ah and 60V voltage. Such batteries can be combined to increase capacity. The batteries operate independently and are automatically switched which positively affects their lifetime.
Please contact us regarding serial orders. In the absence of free production capacities, we also realize orders for single scooter batteries with a capacity above 1000Wh.
In addition to standard batteries, our designers also make unusual constructions – you will find them in our store.
Standard products can be found in our store in a permanent offer. Unusual designs can be also found in the on-line shop. If you need an individual project, order a free estimate – click the button below or contact our sales department.
What is microcar?
Microcars or minicars are small – usually two-person – vehicles with a length of up to 3 m and weighing up to 550 kg. They can be powered by electricity. They are registered as B1 category vehicles. Their maximum allowed speed is 45 km/h (although they are able to accelerate very quickly – even up to 80 km/h).
The most popular are mocrocars with a nominal voltage of 60V – that is, similar to most electric scooters. In the electrical version, their power does not exceed 15 kW (about 20 horsepower).
The cost of electricity needed to travel 100 km with such a microcar is about 1 Euro, so it is a cheaper way of moving than internal combustion vehicles.
The name microcar comes from the name of the French company Microcar, which promoted small cars in the mid-1980s.
Warranty
Batteries are covered by a 24 month warranty. Warranty and post-warranty service in Europe.
New cells
We make batteries only from new cells selected by our machines.
Insurance
Our batteries are covered by the OC policy. The policy is valid throughout the Europe.