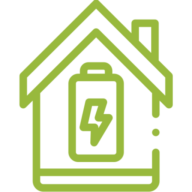 emergency power
lithium – ion power banks in buildings
EMERGENCY POWER
LITHIUM – ION POWER BANKS IN BUILDINGS
Our houses are often packed with modern technologies. Among them are not only intelligent systems managing various elements, such as lighting, monitoring or heating.
More and more often, special batteries are installed in houses or apartments – so-called energy banks. They charge during the day from the grid or from other sources (eg solar panels), then to give away valuable energy in a situation when it will be most needed – for example during a power failure.
When choosing an energy bank, we become less and less dependent on electricity suppliers, and most importantly – they drastically reduce electricity bills.
BatteryGuru proposes its solution for an energy bank, built on the best lithium-ion cells available from renowned manufacturers. This is a guarantee of high efficiency, safety and quality.
Standard products can be found in our store in a permanent offer. Unusual designs can be also found in the on-line shop. If you need an individual project, order a free estimate – click the button below or contact our sales department.
Uninterruptible Power Supply
Powerbank for home, powerwall or additional or emergency power supply for your home, office or workshop.
This solution allows for uninterrupted power supply eg to the home during a power outage or is used to store energy generated by solar panels, wind turbine or other renewable energy sources.
Currently, the energy banks are able to store up to 13.5 kWh which is enough to power one household for up to 7 days without recharging.
They can provide up to 5kW of continuous power or 7kW instantaneous power.
It can also be successfully used in places where different tariffs for energy consumption apply (for example, a night tariff with a significantly lower kWh cost), powerbank is charged at night, and supplies the house during the day.
The most popular powerbanks are powered by lithium-ion cells. They are fully configurable – capacity, power.
Warranty
Batteries are covered by a 24 month warranty. Warranty and post-warranty service in Europe.
New cells
We make batteries only from new cells selected by our machines.
Insurance
Our batteries are covered by the OC policy. The policy is valid throughout the Europe.